Borth Weather Station
Here in Wales and elsewhere in the UK we are all obsessed with the weather… Even a quick read through this weblog will prove this as there seems to be quite a few references to what the weather has been up to. Maybe its because we are quite exposed here and really feel the full force of the weather, but whatever the reason it is certainly the hot topic of the day almost everyday.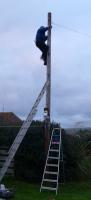 Of course, I am probably more obsessed with the weather than most as my passions of windsurfing, kitesurfing and surfing depend heavily on what the wind and surf is up to, so I always have an eye on the weather. Many of the people who regularly visit my Forces-of-Nature coastal sports website are similarly obsessed with the weather, but are not so fortunate to live here where the action is. Because of this Forces-of-Nature will soon be adding a new 'Live Weather Station' to the list of online services it offers. As you can see from the photo I have been up a telegraph pole setting the weather station up. It will take me a while to get the website side of things up and running as I first need to source and set-up a PC dedicated to running the weather station which can sit in a corner somewhere crunching the data received from the sensors and uploading it to the internet.
I'm hoping to go live with the Borth and Ynyslas Weather Station in the next 4-6 weeks. When it does go live the weather station pages will offer up to the minute live data on wind direction, wind speed, temperature, humidity, barometric pressure, rainfall and various other weather parameters. In addition to the live weather data I'm also hoping to provide data on weather extremes (daily, monthly and yearly maximums and minimums), trends (over various timescales) and various graphs and charts based on the data collected by the weather station. Once established the weather station should be useful for people living in or visiting the Aberystwyth area or anywhere along the coast of Cardigan Bay.
I'll keep you posted with the progress, and hopefully I won't have to go up that telegraph pole again for a while!!