A New 2020 iMac
My current computer is a late 2013 iMac. At 7 years old it is almost ancient in technology terms! That said, I tend to buy fairly high-specced computers so that they have a long lifespan. Although it's 7 years old, it still runs well and is pretty quick. There are times when I've got a video encoding in the background and I'm using Adobe InDesign, Photoshop, browsing the web and doing various other background tasks that I'll hear the fans spin up. There are also times when I get a spinning beachball and have to wait for tasks to complete. Thankfully these are rare. However, as it ages I've been thinking about an upgrade to a new machine for a while. I can't afford for it to break down so an upgrade was on the cards.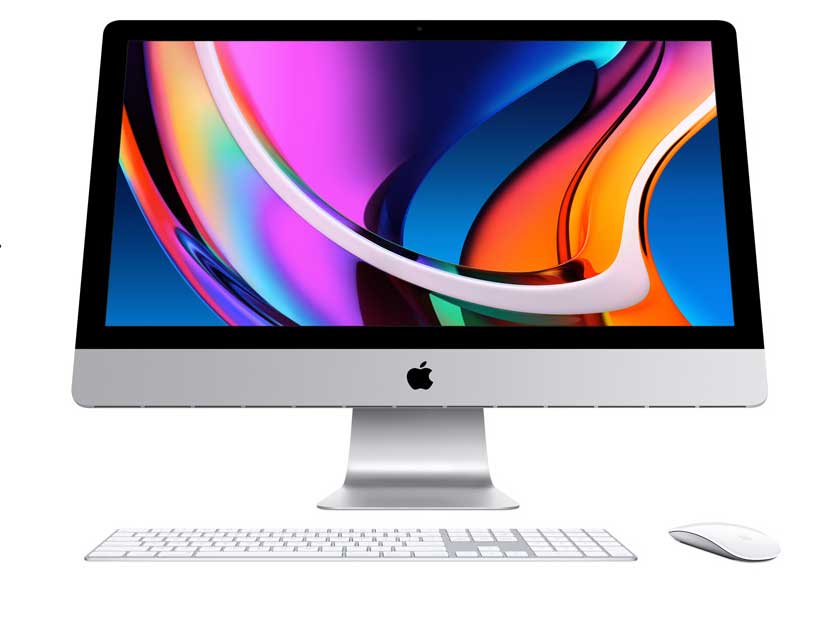 Waiting for a new iMac
The iMac is the perfect machine for my needs. It's rare that I need a laptop and seeing as desktops provide more 'bang for your buck' they suit me well. I also like the large 27″ screens and of course have it set up with a 2nd monitor. So, when I was thinking about replacing my computer I was drawn straight to the iMac again. I didn't jump straight in though as the iMac was due an update so I thought I'd wait until that was released so that I would be getting the latest and greatest. It's often best to get the latest update rather than a model that is more than a year old.
Apple released new 2020 iMacs a week or so ago, so it was time to do some shopping. There were of course some choices to make and dilemmas to overcome.
The Specs
The new 2020 iMac was looking like quite a machine. The new specs were incremental improvements rather than a massive update. However, as there had been several of these 'incremental improvements' since I bought my current machine 7 years ago they should add up to some major improvements for me.
Processor
There were a number of processor options, 10th Generation Intel i5, i7 or i9 chips and various different core configurations as well. The 10th Generation i9 with 10 cores at 3.6Ghz with 5.0Ghz Turbo Boost looked pretty impressive. In comparison to my 4th Generation i5 with 4 cores at 3.2Ghz it should be quite a significant speed bump.
Graphics Card
Again, there were a number of options for graphics cards, but the machine with the i9 processor comes with a Radeon Pro 5500 XT with 8GB of GDDR6 memory as standard. That should do for me and once again should be a massive improvement over my NVIDIA GeForce GT 755M with only 1GB memory.
RAM
The RAM in the 27″ model is user upgradeable so the plan here is to go with the standard 8GB and then buy some third party RAM. Upgrading to 64GB from Apple adds an extra £1000 to the price of the machine. I can buy 64GB of RAM for £250 elsewhere. I also think that I can leave the 8GB in there and add the 64GB to it. That will take me up to 72GB in total which should be nice. My current iMac has 24GB so once again, quite a jump.
Storage
The 2020 iMac models come with Solid State Drives across the line. The basic 512GB isn't enough so a 1TB SSD was needed. This won't offer me anymore storage space than what I currently have. In fact, because my existing drive is a Fusion Drive it is actually 1.1TB in size: It has a 1TB spinning drive plus a 1GB SSD. However, 1TB should still be enough and as it's all SSD it should be a fair bit faster. I can always add external drives if needed of course. Also, sticking to a 1TB drive means that my various external backup drives and my Time Machine drive don't need updating either.
Other updates
There are plenty of other improvements as well. The FaceTime camera is much improved in the 2020 iMac. I'll get Thunderbolt 3 ports which are new to me and of course a 5K display. I didn't pay the extra £500 for the Nano-texture glass though. Glare isn't a problem in my office anyway and keeping it clean sounds like a bit of a chore. Improved speakers and microphones are always nice, especially in these days of Covid-19 working from home. Faster Wi-Fi protocols has got to be good as well. It will of course come with a new keyboard and mouse too. I'm sure these will be a a little cleaner than mine if nothing else!
The Last of a Generation
So, where are the dilemma's? Overall it's significantly better than my aging 2013 iMac and it ticks all of the boxes. The dilemma revolves around what is next in line from Apple…
There have been rumours for a while of Apple releasing desktop computers that use their own processors rather than Intel processors. Apple confirmed this earlier in the year with the announcement that they will be transitioning to Apple Silicon based computers across the Mac line. The transition should take 2 years. So, within 18-24 months all Apple Computers will be running on Apple Silicon rather than Intel. This means that the 2020 iMac is probably the last of the Intel generation of Macs. This isn't a bad thing as the 2020 iMac will be better than my 2013 iMac and I also know that almost everything I rely on day to day on it will just work. Apple will continue to support it for years to come as well.
However, when the new Apple Silicon based iMacs come out I'm sure I'll feel a little bit of regret and will have some FOMO. If it was just an incremental upgrade that would be OK. Afterall, anything you buy in the realm of technology is likely to be a little out of date within 18 months. But, when the update is a major architecture change, that feeling of being left behind might be greater.
Apple are feeling fairly bullish about their new processors as well. When they change to Apple Silicon Macs, they are going to have to justify the move away from Intel. The only way they can do this is if the new machines are significantly better than the Intel models. The fact that this 'last' Intel iMac is so high powered means that Apple must be confident that their Apple Silicon processors will be able to at least match its power. If they manage to do this, along with the other advantages of the new architecture, then the Intel based Macs could start to feel long in the tooth a little quicker than usual.
The Perils of Early Adoption
So, the fears of missing out when Apple Silicon based Macs are released is real! However, it isn't always a good idea to be an early adopter. For a start, I don't know when the new Apple Silicon iMacs will actually be available. It could mean a wait of 2 years. By which time my 2013 iMac would be very old and possibly in dire need of replacement. I'd rather replace it before it dies completely and now is the time.
There's also the fact that the first generation of any new product is likely to have some little hiccups. If any of these happened to be show-stoppers then I might have to wait for the 2nd generation before upgrading. That could be a long wait indeed. Coupled with this is the fact that there will likely be a transition period where certain software won't work on the new Apple Silicon computers. Most things will probably be ported over to run under the new architecture pretty quickly. Apple software will of course work as will major applications such as the Adobe Creative Cloud Suite that I use every day. There are always a few applications and utilities that take a little longer for one reason or another though. If it's something I can't live without then being an early adopter is not without its perils.
Buy Now
Having balanced the imminent need for a new computer against the risks of waiting for the latest greatest Apple Silicon based computers, I decided it was time to 'Buy Now'.
I won't need to wait to update so will get the benefits of a new computer straight away.
Everything I need to do on it will work as it does on my current iMac
If it does feel a little out of date sooner than I'd like, it will still do everything I need it to do. It will do so for years to come as well.
I won't be taking a risk by being an early adopter of Apple Silicon based computers.
By the time it needs updating in 5 years or so the Apple Silicon based Macs should be well established. Updating to one then won't be the risk that it is now.
There was also the lure of a free set of AirPods with a new iMac purchase at the moment. I was going to buy Anna some AirPods for her birthday anyway (shh, don't tell her!). I could get them free if I bought the latest 2020 iMac! That saved me £159 before I even started.
So, with all things taken into consideration it was off to the online Apple Store to make a purchase. I did of course go via Quidco so as to get 3.3% cashback which would save me £91. I also bought from the Educational Store rather than the standard store which saved £330. That's £580 worth of savings in total. Being an Apple Computer it still wasn't cheap. I can justify it though as I do use it everyday. I do spend quite a lot of time working on it and it is a business expense. Let's hope it's all OK and works as well as expected.