A Slight Easing of the Restrictions
There will be a slight easing of the lockdown restrictions on Monday which will mean that we can go out to exercise more than once a day. You would think that with the amount of exercise that I usually do this would be music to my ears. However, the fact that we still can't go in the sea means that it won't make that much difference to me really. I still won't be able to do the usual swimming and kayaking training that I would do, nor can I go windsurfing, surfing or paddle-boarding, let alone snorkelling and fishing.
It does of course mean that I'll be able to get out on my bike if I want as I've been doing all of my cycling indoors during the lockdown. That's not actually a big deal for me though as I do most of my cycle training indoors even when not in lockdown. The main difference will be that I can go for walks with Anna even on days that I have already been for a run. I can probably walk over to the beach every now and then as well, even if it's just to see what's going on.
A Saturday Afternoon Walk
Talking of walking with Anna, we had a nice walk today out through Ynyslas and then along the Leri before heading back along the golf course. It was pretty warm out there with temperatures just over 20ºC. There were a few other people out for walks but in the most part it was quiet.
No Longer Missing at Sea
As we came back along the golf course we took a look in one of the depressions in the pebbles where the sea wall is broken and the golf course land behind it has been eroded. At the bottom of it was a battered old windsurf sail and boom. Closer inspection revealed that it was a blue 4.7m Gun Sails sail which probably means that it was one of mine! That's the brand of sail that I use and I don't think I've ever seen anyone else using one around here as they aren't used by many people in the UK. I have in the past had to ditch a few complete rigs at sea after some sort of major equipment failure so I'm guessing it's one of those that has been washed back up. I can't quite remember when it was that I lost this sail but I don't think it will be much use now either.
There hasn't been much else happening here. The weather has been lovely though so we've had pizza's cooked in the pizza oven in the garden.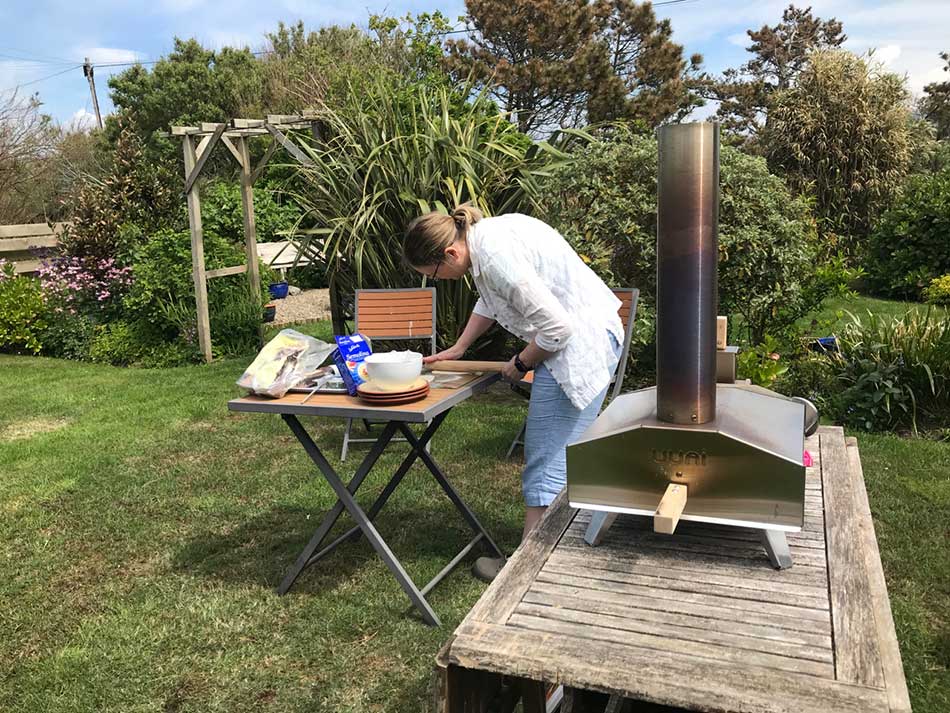 Having a Bank Holiday on a Friday was a little weird as, but everything is a little weird at the moment. There was of course no street party for VE day at Ynyslas – but there wouldn't have been in normal circumstances either.
Missing the Sea for Longer
I am of course beginning to miss going in the sea now. I don't think I've ever gone this long without doing so. Having it right there on my doorstep doesn't help and the gorgeous weather just makes it worse. Worse still is that some people aren't abiding by the rules and are still going in the sea. I've even seen people driving here to go for a surf. I know there will always be people who think they know better or think the rules don't apply to them but it still doesn't seem fair. I don't have to drive to get me or my kit to the sea. I can kayak, swim and such like in a much safer and competent manner than most (if not all) of the people who think they know better and yet I'm still abiding by the rules. It's just frustrating to see others who aren't.
I can understand some people's arguments that some of the rules don't necessarily always make sense but that's not the point. If the rules are there then everyone should be abiding by them whether they agree with them or not.
I understand why the RNLI, Coastguard, Government, and various sports authorities want to keep people out of the water and it makes perfect sense. If something happens, the volunteers and staff of these organisations are the ones put at risk. I also understand the arguments that – for those of us who know what we are doing – the risks of some of these water based activities are lower than the risks of cycling or even running. The risk is of course never zero. However, lines have to be drawn somewhere and if that line is at the waters edge then so be it.
As always, it's those that think they know better who are flouting the rules and still going in the sea. When they do so this leads to news article and headlines such as this from the Maritime and Coastguard Agency
The number of recorded incidents dealt with by HM Coastguard yesterday has been the highest recorded since the UK was put into lockdown in late March. In a 24 hour period, there were 54% more incidents than the average recorded for the previous month – the average has been 63. Yesterday saw 97 incidents. Matt Leat, duty commander with HM Coastguard said the reason for the increase was simple: 'People are ignoring the measures put into place by the Government,'

Maritime and Coastguard Agency
Such news stories only mean that the restrictions will stay in place longer and as usual, it's those of use do actually know better that suffer because of it.
Anyway, having had a bit of a rant about that and having mentioned ditching windsurf kit at sea above I thought I should point out that even on those days where I've had kit break on me and have had to ditch it at sea, I was still able to get myself safely back to shore without any assistance. I wouldn't have been out there in the first place if I thought that weren't the case. It would also have in huge waves whilst blowing a gale, but again if I'd thought the conditions were too much for me then I wouldn't have been out in them. I know that I could swim, kayak or surf in the current calm conditions with very little risk and certainly less risk than there would be from going for a cycle but even so, I'm still abiding by the rules. I just wish everyone would as seeing others out there just makes me miss it all the more.