Bank Holiday Madness
It was pretty much business as usual for us this Bank Holiday. Plenty of kayaking, surf-skiing, bike riding, mountain-biking, running, swimming and surfing for me. Nothing unusual there, just a normal weekend really. There was baking and cake-eating, cleaning and gardening and all the things that we usually get up to. We popped into Aberystwyth and chilled at home. It is nice having time off work at home together.
As is normal these days it was difficult to get Morgan out in the real world, but we did manage it briefly once or twice. I even got Anna in the sea for a little play on the SUP when Laura, Gruff and Llyr came to the beach.
Tourists!
The only thing that made it any different was the fact that there were thousands of people at Ynyslas. I'm sure it's getting busier on days like this as the years go by. I don't seem to remember it being this busy before – or maybe I'm just becoming a 'grumpier' old man. The worst part is all the cars parked along the road in front of our house.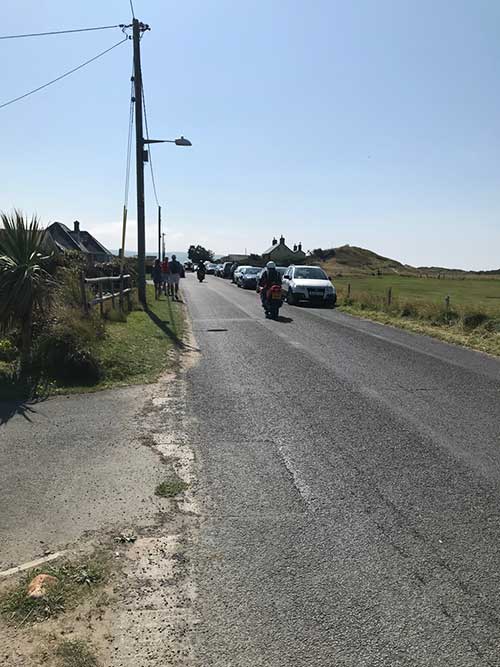 Usually there are no cars and we might see one or two an hour drive by. On a weekend like this though there are loads of them all parked along the road blocking access to a certain extent and worse still we get several cars an hour pull up onto our drive to turn around. I always thought it a little odd when people put up 'No Turning' signs on their drives but I can now see why. Maybe it's time for a proper front fence and some gates to keeps the tourists out.
It doesn't help matters that my usual daily walk across to the beach with my surf ski is hampered by all of the cars parked along the road as well. There's only just enough room for a car to get past when they are parked there. This means that there isn't really enough room for me and my surf ski as well as a car to make it along the road. I have to stop and wait for cars to go by whereas normally I have the place to myself. On top of that I'm sure everyone thinks I'm just another holiday-maker walking across to the beach with a rarely used water-craft. I think I need a little sign that says 'I'm a local and I do this pretty much every day' – 'I'm not the one getting in your way, you are getting in mine!'
Dirty Noisy Smelly Jet Ski's
I'd hoped to find some peace and quiet once on the water but that wasn't necessarily the case either. It was scorching here on Saturday, touching 29ºC with gorgeous sunny skies and nice blue water. Rather than do a hard interval session on my surf ski I thought that a nice peaceful pootle up the estuary was in order.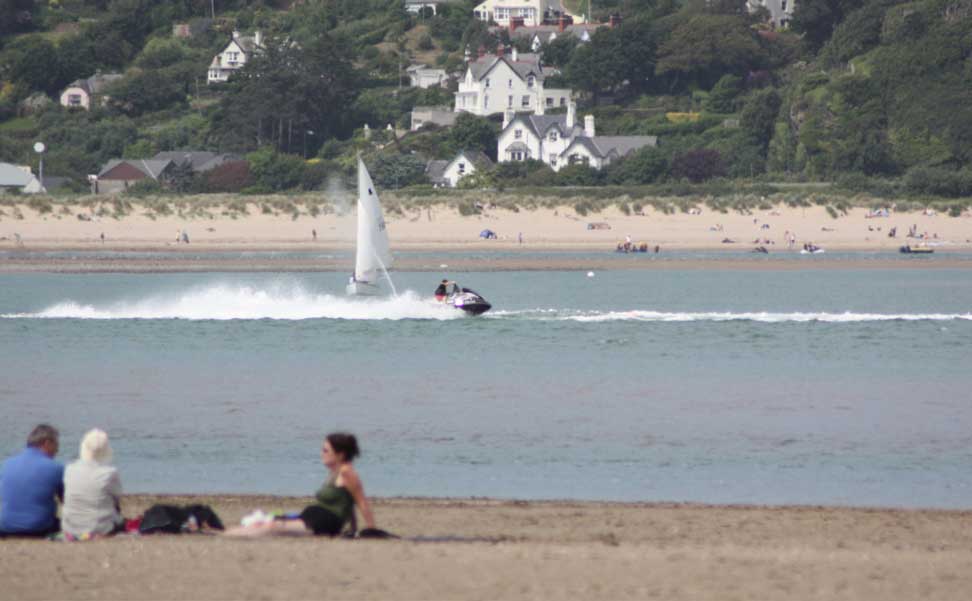 So, after negotiating the cars to get the beach and weaving my way out through the kids playing in the surf I headed north into the estuary where I was 'greeted' by a whole load of idiots on jet ski's. What's wrong with them all, why do they have to go so close, and why are they so noisy and smelly? It completely ruins the peace and tranquility that I assume most people come here for. The fumes had me pretty much choking and the noise was unbearable. As well as loads of jet ski's there were plenty of people racing around in speed boats too. Worryingly they don't often appear to be in quite as much control as maybe they should be.
What should have been a peaceful paddle on the calm waters of the estuary was a nightmare. I had to be ever vigilant of speeding boats and jet-ski's, the water was super choppy because of them and there was no peace to be found. I can only assume that the 8 knot speed restriction only applies to a small area around Aberdyfi Harbour as the powered craft travelling at great speeds were intermingled with all sorts of other non-powered craft..
Peace at last
I continued on deeper into the estuary and did fortunately finally find some peace and quiet and then landed on the small beach near Plas Panteidal.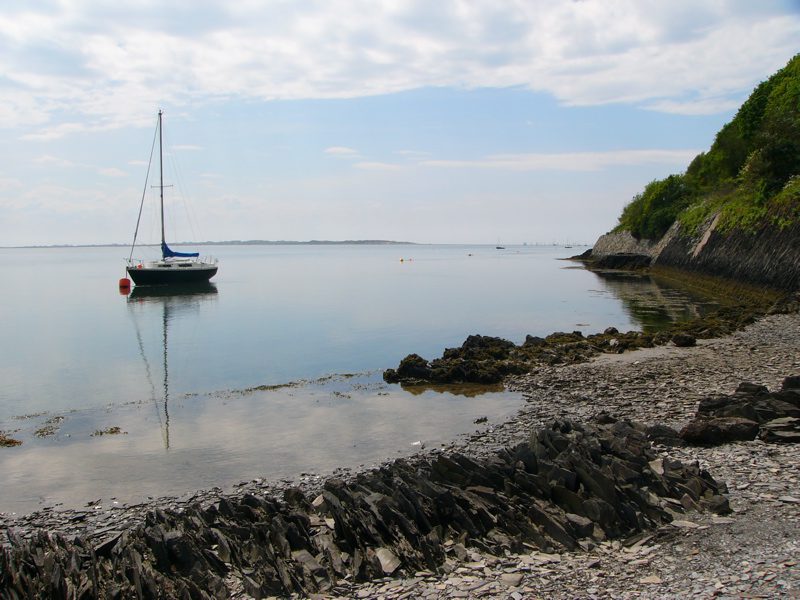 Here I was able to chill in the sunshine and skim stones on the water. Peace at last. I couldn't stay there too long though and soon had to make my way back through the madness of the tourists as I caught the tide back home. At least they will all be gone soon and I'll have the place to myself again
Fireworks
Things were still less peaceful than usual after dark as well thanks to the end of season party at the caravan site. We do at least have front seat views for the fireworks, even if we do have to put up with a procession of cars and people afterwards as they all leave the show.