Dearne Valley Quadrathlon 2019 – Race Report
The 2019 Quadrathlon season is now well and truly underway. This weekend it was off to Rotherham and the Manvers Waterfront Boat Club for the Dearne Valley Quadrathlon. As usual I headed off early on Saturday morning so that I could have the weekend there. I was hoping to have an easy ride around the bike course and rain was forecast for later in the day so it was good to get there early.
The drive up was nice enough and took about 4 hours. Once there I had a little chat with Blake and his Dad who I met last year and then went off to find Mark so that I could get access to the spot where I would camp for the night. I was soon parked up and first one there. There were dark clouds in the sky and the occasional sunny spell so rather than wait for the weather to break I headed off for a little ride around the course. All was as I remembered it from last year, but with all the rain we've had lately it was a little muddier.
Back at the van it was time to clean my bike a little and then chill for the afternoon. I would have gone for a paddle but it looked like it was going to rain so instead I strolled to Tesco to buy some supplies and then just hung out by the lake.
Mark and Gillian arrived after a while and set up their tent so I had a chat with them. They then headed off to ride the bike course as part of a planned recce. Just after they set off, the heavens opened and I was glad I'd done it on my own earlier. I did hear afterwards that they had managed to shelter under one of the bridges for the worst of it.
A few other people were now setting up tents nearby. James and his daughter Gemma were next to me and there were a few others too. I had been half hoping for a fairly easy, chilled race tomorrow, but the arrival of James had changed all of that. I've only raced against him twice, both in the Shrewsbury Quadrathlon where he had placed 3rd and 2nd and had beaten me by a fair margin. It now looked as though I would have a harder day tomorrow. Pete Tindall was here too and Mark Pryor could be fast despite the fact that he hadn't raced for a while. There were of course a few unknown names on the start list too. So much for an 'easy race'!
After a huge pasta dinner there was little else to do other than read a book and pfaff about online. I did manage to do a little bit of work as well, but doing so in a phone isn't ideal. I therefore headed off to bed at around 10pm in the camper as the rain rattled on the roof.
Race Preparation
I woke up expecting it to be somewhere around 4am. It wasn't, it was only 12:50am. That was it as far as sleep went for me so I was up and about as the sun rose. I had wandered around the lake, eaten breakfast and pfaffed about for hours before there was any sign of anyone else.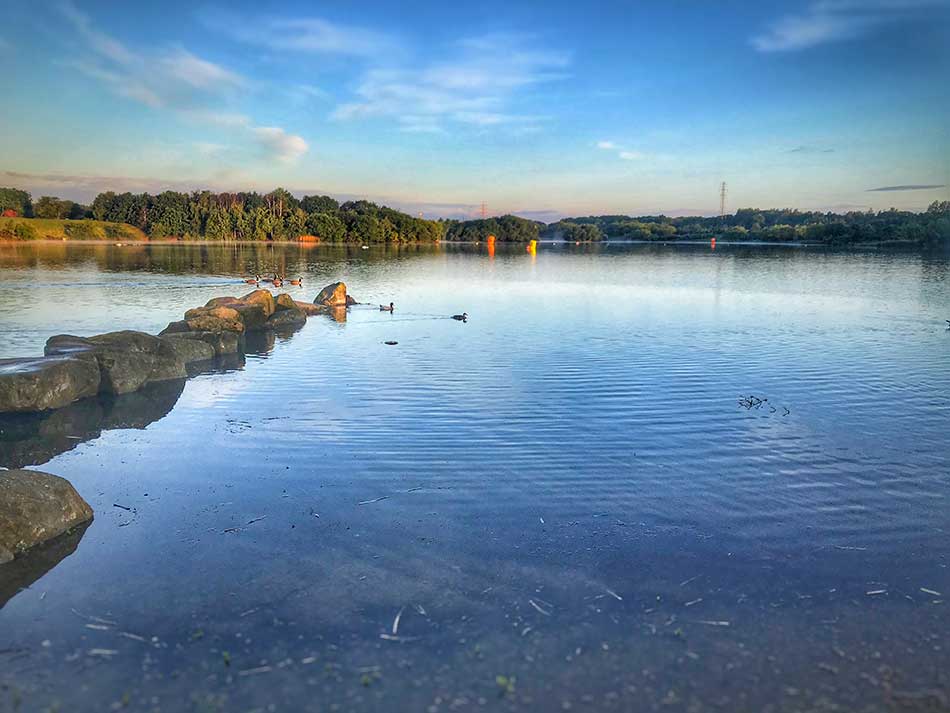 People did finally start arriving so I started getting ready in amongst chatting to familiar faces such as Helen, John and Elaine, Pete, Lance, Mandy and plenty of others. Things were getting busy.
As well as the Quadrathlon, there is also a triathlon that runs alongside the race for those who don't want to paddle. There were a few fast looking people preparing for this too. With my boat and paddle on the lakeside and my bike, helmet, shoes, buoyancy aid and other paraphernalia in the transition area there was little else to do other than watch the kids race. I then got changed and was ready to go.
We had to wait for the kids to finish first and then clap them through their presentations. Blake, the local lad that I met last year was first in the boys, and Gemma (James's daughter) was first in the girls.
It was now our turn.
The Swim
It was a mass start in the swim with the quadrathletes and triathletes all in it together. We swim two clockwise loops of a 400m rectangle. I started out fairly steady and had someone right next to me for the first side of the rectangle. I didn't recognise him so guessed (and hoped) that he was one of the triathletes. I therefore decided to see how fast he was just in case it was worth sitting on his feet and getting a tow. What I hadn't realised was that the quadrathletes had blue hats and this guy (and the other triathletes) had yellow hats so I should have known he wasn't in the quad! Although, looking at the photos of the swim start I'm not sure if that is correct as I'm not sure what the white hats signify!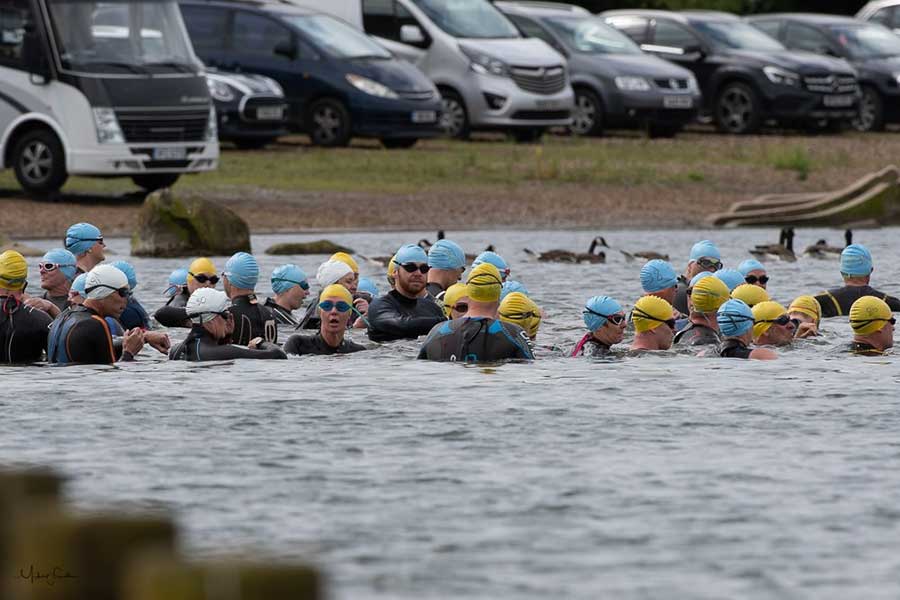 After the first turn I decided that he wasn't fast enough so picked up the pace and swam off on my own. Around I went at a nice steady pace. Nothing too hard but keeping up a nice pace too. I started catching the tail enders on my second lap and by the time I started making my way back to the slipway and overtaken quite a few of them. I then worry that as I get out the marshalls won't realise that I've already done two laps and will send me off on another! They didn't so I made my way up into the slippery, soggy transition area in first place.
My official swim time was 12:02. Not too bad for an 800m swim and about the same as last year (12:10). Second out of the swim was the triathlete I had been swimming with to start with in a time of 12:37 with James third (and second Quadrathlete) in a time of 14:09
The Bike
T1 was OK. Although, with unwieldy cyclocross shoes to deal with not as quick as it might be with triathlon shoes. I was however out onto the bike course in first place. I hoped that I had a couple of minutes over James in the Quad and that maybe the triathlete would give me a bit of competition. The former was indeed the case, but the latter never happened.
I had a pretty good ride and was feeling good. The course itself is a little sketchy. It starts off along a narrow muddy, twisty section. Perfect for the cyclocross bike that I was on, but as it's a public footpath there's no real opportunity to go for it as you always have to be aware of dog walkers or other cyclists around the next bend. There are also quite a few offset boulders to weave through and lots of blind corners under and over bridges. It does open out a little further into the ride but even here there are occasional squeeze gates and road crossings to deal with. Being first onto the course doesn't help either as the other people using the path aren't expecting people to be riding quite so fast along here and don't know that there is a race on. Once a few of us have been past they are expecting it but as the first one on the course I had to be the advance warning. This means shouting out to let people know I'm coming, negotiating them (and their dogs) as they try to get out of the way and thanking them once I'm past. It does add somewhat to the excitement I guess and there's never a dull moment on this bike ride.
I was riding well, prompting the waiting marshalls into action as I went past and pushing hard where I could. I knew I had a lead but wanted to extend it somewhat before the kayak as that is where James would excel. I needed quite a buffer. I checked my watch at the turnaround point and it said 18:14. I figured that if I didn't see James until 19:45 that would give me a three minute lead. I might even be able to extend that out to 4 minutes by the end of the bike which would be almost one lap of the kayak route. That might be enough to hold him off or at least make the run interesting. Yep… I do maths whilst racing. 19:45 came and went and I still hadn't seen anyone coming the other way, things were on target.
I did have a little incident on the way back at one of the squeeze gates. I saw a family of walkers heading for the gate as I approached at speed. I shouted out to let them know that I was coming, hoping they would move out of the way and let me through. However, they had decided to take offence at the fact that there was a race going on so purposely stood into the squeeze gate blocking my way and started shouting at me telling me that it was a public footpath and that they had as much right to be there as I did and they didn't care if there was a race on. There was no point arguing so I just apologised and managed to get through and carry on my way leaving the marshals to deal with them. Some people!!! It's not as if it would have made any difference to their walk if they had just stood to one side for a split second as I went past. Most people would have taken it as an opportunity to watch a bit of racing and add a bit of spice to their morning stroll, but I guess it takes all sorts! Most people did of course do their best to get out the way and some even cheered us along.
Other than that it was a good ride for me and I pushed hard all the way back to the boat house hoping to open out a decent buffer.
My official bike time was 33:58, the fastest of the day in both the quad and the tri – a little slower than last year though (33:25) but it was quite a bit muddier.
James posted a time of 36:45 on the bike so I had opened my lead out to around 5 minutes. Peter Tindall posted the second fastest time of the day at 35:14 so James and Peter must have come into T2 fairly close together. The guy who was leading the tri (and went on to win it) had a slow bike at 40:59 so never did give me any helping competition.
The Kayak
T2 was again a simple affair even if we did have to pfaff with a buoynacy aid. I had also put some surf wax in the lip of the seat bucket on my ski which made picking it up and man-handling it into the water a little easier than usual. With that done I was off for 5 laps (yep, more maths to do in order to keep count) of a 800m clockwise loop around the lake. As I turned at the far end and started heading back for the end of lap one I was looking out for James. Each lap would take me around 5 minutes so I was hoping to have the best part of a lap in hand. I couldn't see him so things were looking promising. As I finished my first lap I finally saw him. I headed out onto lap 2 with James in hot pursuit just starting his first lap.
As predicted James' paddling background and speed (and super sleek K1 boat) meant that he caught and overtook me by the second half of that lap, unlapping himself in the process. I did my best to keep him in sight but the gap gradually increased. He was clawing back some of my advantage but I was still holding onto a significant proportion of it so everything was still to play for. I wasn't sure how well I would run though, nor how well James could run. I really didn't fancy duelling it out over the last mile of the run – that would be far too much like hard work!
I counted down the laps and tried to hold onto as much of my advantage as I could.
My final kayak time was 24:31. This was the second fastest paddle of the day behind James who predictably got the fastest kayak split of 22:10. I still had over two minutes lead going into T3. Could I hold onto it on the run?
The Run
Into T3 and it was all to play for. I had the upper hand, I just had to hold onto it. One of the marshalls did think I was just returning from the bike and tried to usher me out onto the kayak. I obviously knew better and just headed out onto the run. So far I had been going for 1 hour 10 and had been out in the front on my own the whole way. Things were a little busier now though as the triathletes (having not had to kayak) were out on the run course as well. In fact, had I been doing the triatlon I would have finished by now as the run takes less time than the kayak. I would also have got the win because the first triathlete to finish (who I had swam with at the start) was yet to finish.
The run course follows the bike route so starts with some muddy, slippery trails. I was wishing I had brought my trail shoes as the lightweight race shoes I had on aren't suited to such mud. They weren't too bad but they were quite slippery. I was running OK but it wasn't great. I felt fine but just didn't seem to be able to push the pace and my pace was hovering around 6:55 mins/mile rather than under 6:30 that I would have liked. I just had to hope that James wasn't flying on the run! I stopped looking at my pace after a while and just got on with the job in hand.
I felt OK and wasn't going flat out just in case I did start getting caught and needed a bit of a sprint towards the end.
I must have picked things up as I went on because my official time was 22:02 with an average pace of 6:27 mins/mile. I did manage the sub 6:30 pace after all and posted the fastest run split of the day. It was slightly slower than last years time (21:39) but again it was quite muddy in places.
Behind me, James posted a time of 23:35 so I was actually opening up my lead on the run. Peter posted the second fastest run time of 22:10.
Results
A win is always good, but no race is ever easy. I was pleased with the way things went though. I got the lead I needed, with the fastest swim and bike splits of the day. I lost a bit of that lead to James on the kayak but not by too much thanks to the 2nd fastest kayak split of the day and then increased my lead to take the win with the fastest run of the day as well. Here are the overall times for the top 3
Alan Cole – 1:32:33
James Block – 1:36:39
Peter Tindall – 1:43:40
Meanwhile, in the women's race Scimitar team-mate Helen Russell also took the win and did so convincingly. She was 4th overall (men and women). She posted the fastest female splits in all four disciplines and took the women's win by over 18 minutes. A double win for Team Scimitar!
The results have been published already. I've tidied them up a little, added the discipline ranks and sorted them to show the Quad results on their own.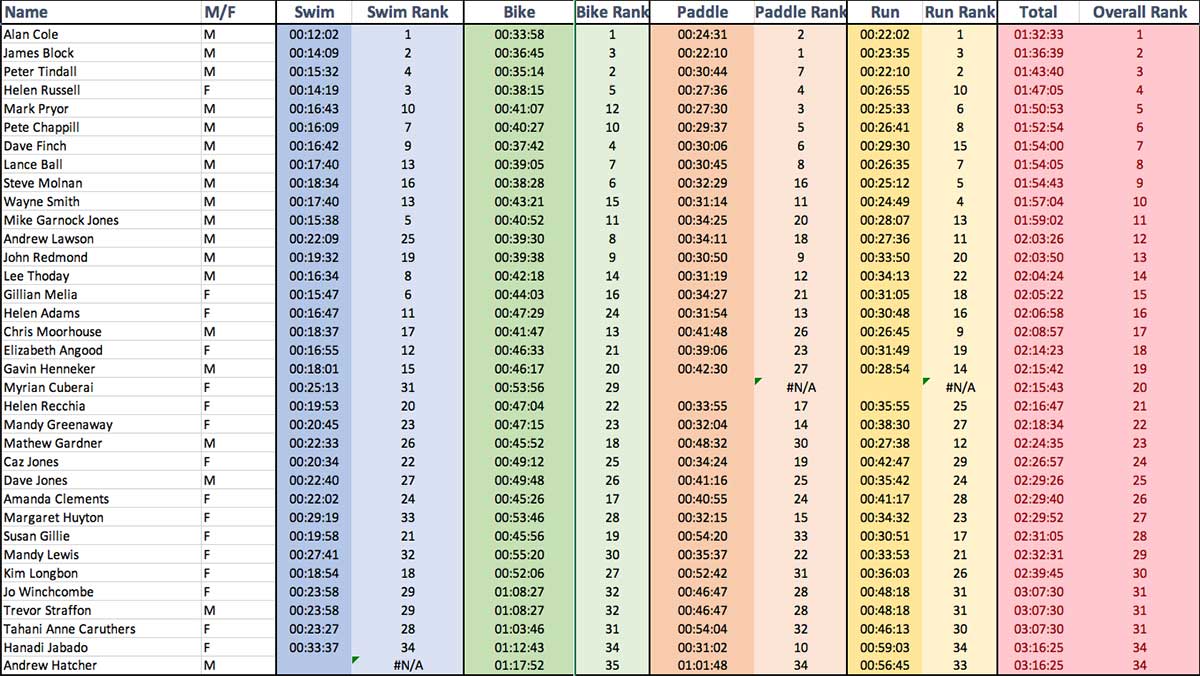 All in all, a nice weekend away, a good race and a winning result. Thanks as always to the organiser Mark Benton and his team of helpers and marshals, and of course to everyone else for making it fun.
Sponsors.
If you would like to sponsor me and get some positive exposure for your business at the same time, please
get in touch
or use the donate button below. I'll do my best to make it worth your while.
I'm currently racing for Scimitar Sports Racing Team and Beet-it Sport