Bank Holiday Weekend Activities
Another bank holiday, weekend, but this one was a little chilly. There were lots of jobs to do as well, both in the house, the garden and cleaning the van. Saturday was therefore spent washing, waxing, tidying, cleaning, mowing and weeding. Things did look a little better once some of it it was done.
Riding in the hills
The sun was shining but it was only around 10ºC. It was time for a bike ride. I decided to head out into the hills on my gravel bike so as to avoid the cars. 3 glorious hours without a single car in sight. It was pretty cold up on top of the hills though.
Surf Ski up the Dyfi
Sunday was the other way around. So as to coincide with the tides I headed off for a surf ski in the morning. Temperatures overnight had fallen to minus 1.1ºC so there was a heavy frost. It was only just above freezing at 1ºC as I set off from the beach opposite our house. There was no wind, barely any swell and the paddling was good. Going with the tide I made fast progress towards Aberdovey and then started heading up the estuary. I was flying along at around 7.5mph. Past picnic island, past Panteidal and past Smuggler's Cove and then into more river-like conditions. Geese honked as I glided along but otherwise all was quiet.
I was at Glandyfi within an hour with 7 miles under my belt so on I went, under the railway bridge and into the meanders of the River Dyfi. All the way up to Derwenlas which had been just over ten miles. Here I stopped briefly on the grassy river bank for breakfast. A banana, a Peanut Butter energy bar and a drink. I didn't stay long though as it was cold once I'd stopped, so it was soon back onto my ski for the journey home.
The tide was turning so it should be helping me out in the opposite direction now. Getting going again took a while and now a headwind had developed which made things tough. My bum was numb from sitting in the same position for so long too. Once back out into the estuary the tide was ebbing and helping out properly but the wind had increased quite a bit. It was now quite a slog and there was some big chop bouncing me about all over the place as well. On I went, retracing my paddle strokes. I could either try to hug the coastline for some shelter from the wind or stay out a little further to make use of the current. I did a bit of both, sightseeing as I went. Finally, after just over 3 hours I made it out of the estuary, back along the beach and onto dry land. A 21 mile paddle in total, a record for me.
My hands knew it though!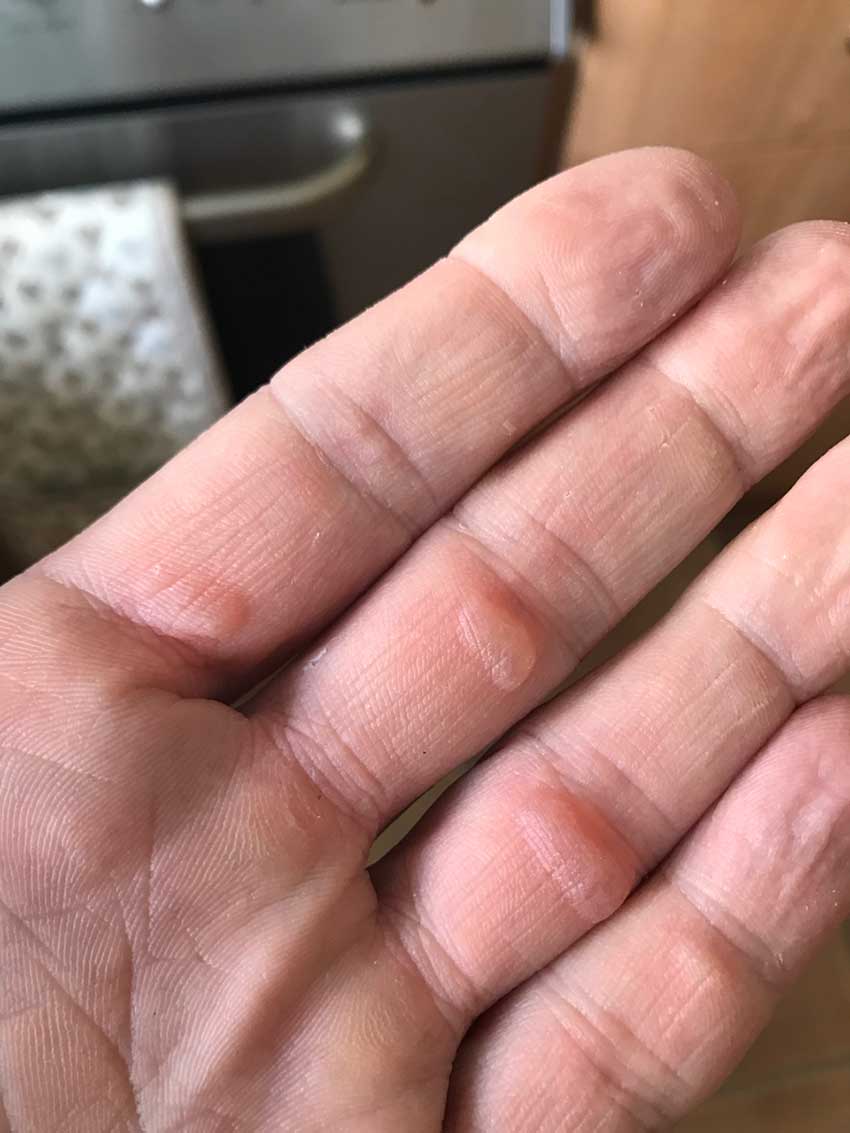 More Chores
The afternoon was spent with more tidying, more gardening and sorting out the camper ready to go away in it. Morgan made brownies. Mmm Mmm.
At least we have Monday off as well and I have a sea swim planned for the morning and hopefully a bike ride and a run. I di have to do some work as well though (Boo!)