Stormy Seas
That was a quite a session. Rigged my 4.5m sail and little wave board but the conditions looked a little intimidating out there with some big messy surf, strong buffeting winds and driving rain. There wasn't great visibility either with a dirty, brownish grey sky. On the water there was white-water everywhere and no sign of and end to it out to sea.
The wind was about right for my 4.5m sail at around 35 knots. A little too much at times as it was gusting to 40 knots or more but fine most of the time. The sea was another matter. It's OK for these Red Bull Storm Chase guys with their impact vests, emergency beacons, jet ski and helicopter support, countless cameras and people watching them and of course immense skill. It's not quite the same for little old me all on my own on a deserted windswept beach.
I'm almost always sailing completely on my own with no one else even walking on the beach let alone there watching me. Even if there were, there's definitely nobody there ready to help out if I need it so I have to play things a little more cautiously. Today the beach was completely empty and there wasn't a soul in sight. On top of all that I'm not quite as skilled as the Red Bull Storm Chase guys so didn't really fancy venturing out too far.
Once the walls of whitewater get to a stage where they are well over head height and the ones further out were only get bigger and bigger with no sign of an end to them I felt as though it was time to turn around. I never did make it all the way out to the back today (if there was such as thing). Instead it was a case of blasting out through the smaller waves on the inside, a couple of big jumps (or crashes) off the waist to chest high waves and then survive over the big walls of whitewater before looking for a suitable place to gybe and head for the relative safety of the shallows again. Gybing in amongst the mayhem did of course come with its own challenges and sometimes led to a swim but at least it wasn't a huge swim in amongst monster storm waves. Maybe I should have relaxed a little and just gone for it, but sometimes it's also better to know who's the boss and take it easy.
One of those days when you get off the water and think 'Phew, I survived' rather than ' Wow that was awesome!'
So, rather than my usual video footage of the session, here's a comedy still from mid way through a spectacular upside down crash!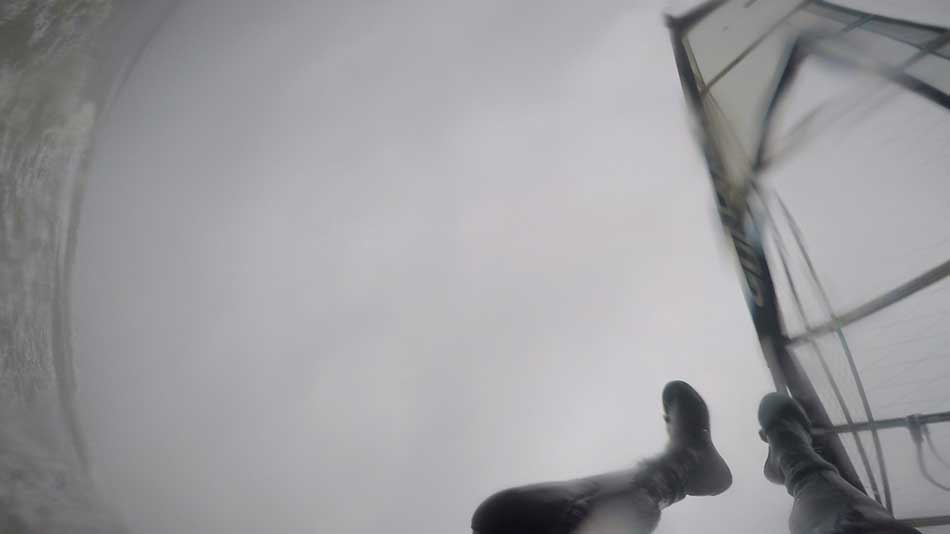 As you can see, it was quite a grey day as well!