Wales Coast Path Run – Newport to Cardiff
Coast Path Vital Stats
Newport to Cardiff
Distance: 16.04 miles
Elevation Gain Today: 68m
Highest Elevation: 14m
Time: 2:29:57
Av. Pace: 9:21 mins/mile
Calories: 1324
Totals to Date
Total Distance: 679 miles
Total Time: 126:19:16
Total Elevation Gain: 20586
Total Calories: 62076
Distance to go: 411 miles
Today's coast path run was a Tale of Two Cities from Newport to Cardiff. It has to be said that it wasn't the most exciting of Coast Path runs, but if I'm to circumnavigate the whole of Wales then these things have to be done.
It was a fairly non-descript day as well. Grey skies, hazy and cool. Low vis and a moderate breeze that created a headwind almost all of the way.
I had sore legs and glutes when I woke up in the morning too so eased them off with some trigger-point massage using massage balls on the drive there. 3 hours of driving through Wales whilst massaging my legs seemed to do the trick and they felt OK when I parked in exactly the same spot Anna had parked at the end of last weeks run to Newport.
Running Through Newport
I got ready and soon set off. It was dry so no jacket was necessary today. It was a little chilly with just shorts and running tops on but I'd soon warm up and my rucksack helps keep me warm too. Although as soon as I started running I could feel that my back was a little sore. Nothing too bad, but it felt as though a disk in my lower back was being compressed.
The route took me up and over City Bridge as I crossed the River Usk.
This bridge is the second crossing of the Usk after the impressive Transport Bridge that could be seen downstream from this vantage point. City Bridge is is a bow-string arch design, 650 ft (200 m) long and forms part of the city's Southern Distributor Road (SDR). Between the two top pillars the west-bound carriageway of the bridge bears a large emblem of the Arms of Newport City Council. It's quite a nice looking bridge from many angles, and in 2005 was recognised by The Structural Steel Design Awards. The judges said of the bridge:
"The Usk crossing symbolises the best in British bridge engineering. It combines an elegant design, high quality fabrication and innovative construction. Newport has gained not only another much-needed river crossing, but has gained an elegant steel structure in the process."
I continued on along the busy A48 leaving City Bridge behind me. Trucks, lorries and cars hurtled past as I followed the dirty, unattractive and somewhat smelly road. I was now on the opposite side of the River Usk and had more views of the Transporter Bridge to distract me from the heavy traffic. I really should come back and cross the Transporter Bridge one day – if I have the nerve to do it as it will take quite a head for heights!
I crossed the A48 and followed the Coast Path signs through various streets in Newport. Off I went around roundabouts, back across the busy A48 and finally away from the road around some playing fields and over a little bridge across the Ebbw River. I was still in Newport though and soon re-merged onto another busy road before turning left, over a steep bridge across the main South Wales railway lines and out onto farmland.
To the Mouth of the Usk
The farmland wasn't exactly quaint attractive farmland either. It looked like reclaimed floodplain and had a dirty great big muddy track through it that I was following. There was a huge farm with various industrial looking buildings off to my right. The fields were quite waterlogged and some were full with swans. I could hear gunshots from a few vans parked at the other side of one of the fields as well. I'm not sure what they were shooting at, I just hoped it wasn't me, or the swans for that matter!
The wide, potholed track too me down to the mouth of the River Usk. From here I could look out aross the river to see the Newport Wetlands RSPB Reserve that I had ran around last week.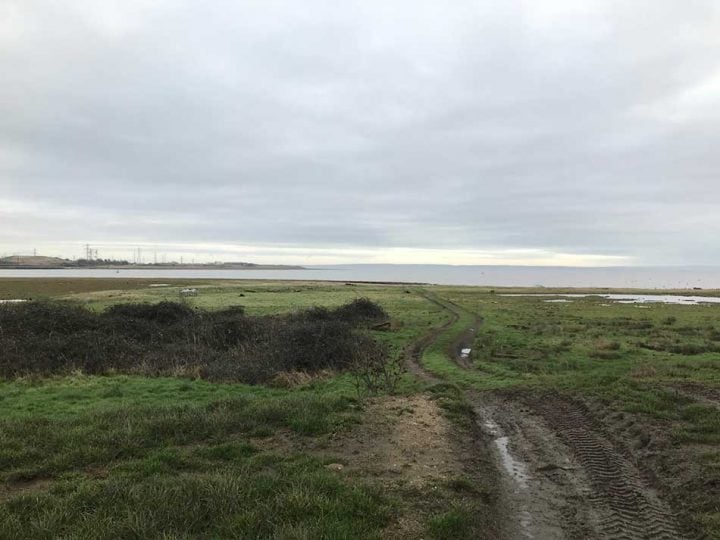 The track then turned right to take be up onto what had become a familiar flood defence along the River Severn. Yep, I was once again back on top of the embankment that seems to stretch all along the South Coast of Wales.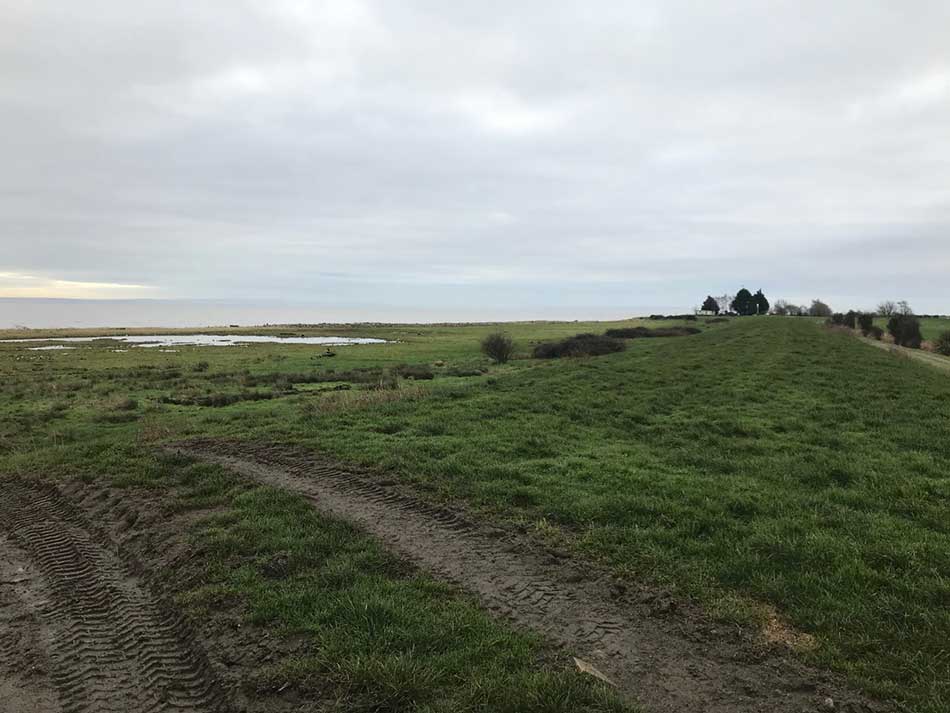 My back hadn't eased up. It was manageable but quite sore if I wasn't careful. I was taking it easy and making gradual progress along the coast. I passed an interesting looking lighthouse that seems to be someones house.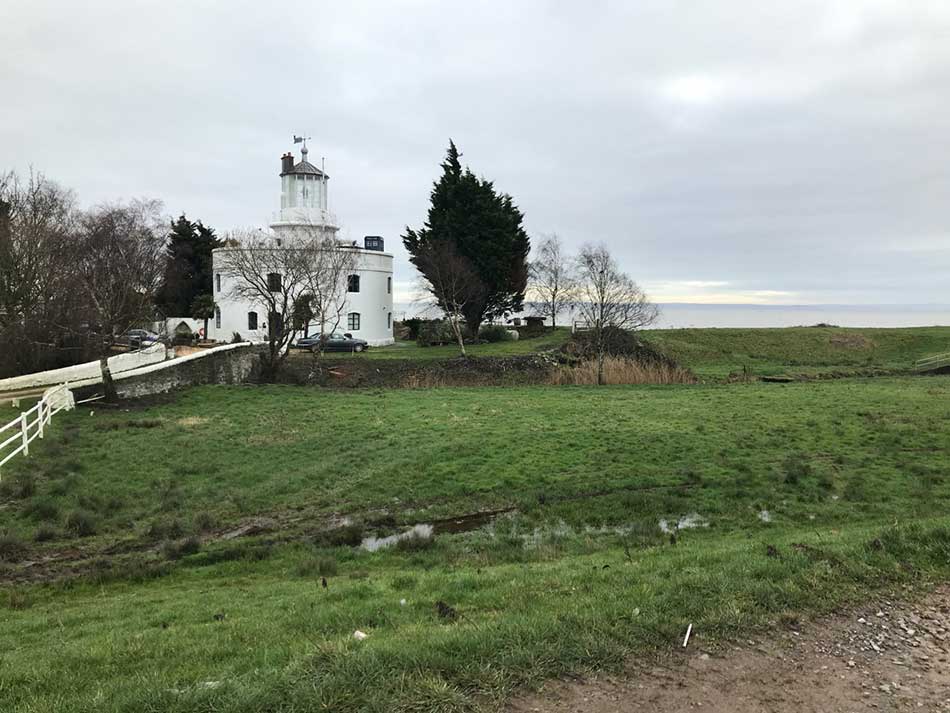 Ahead of me lay nothing but seawall and embankment.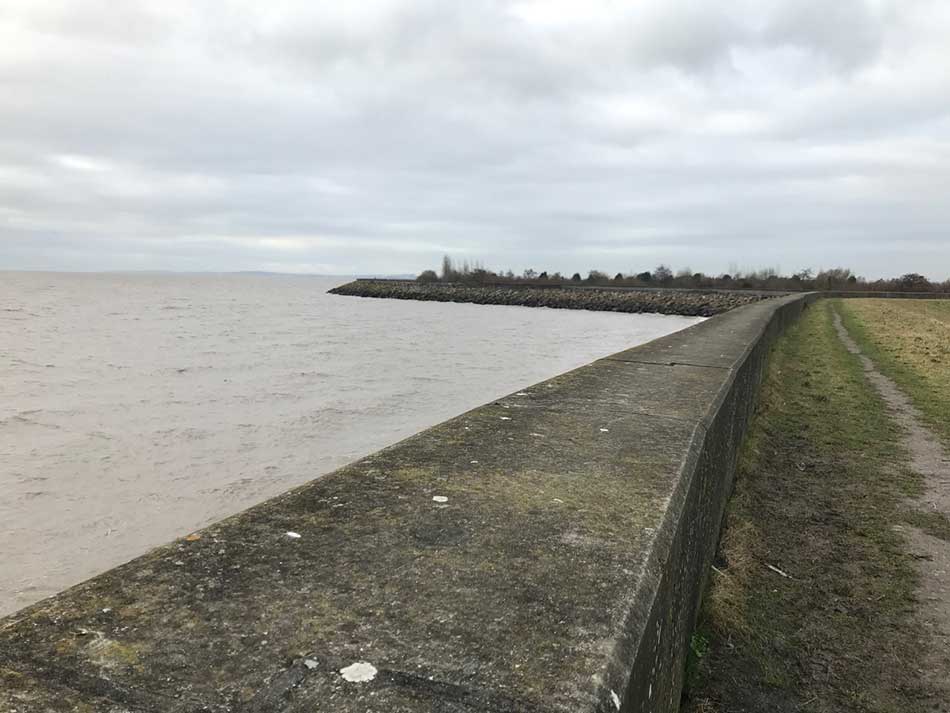 I followed this embankment for mile upon mile last week and once again I was on top of it with a small seawall beside me. The Severn Estuary was to my left and below the embankment to my right was a muddy track and a water-filled drainage ditch. Familiar scenes to accompany what looked like a long slog into the wind along the never-ending embankment.
There was little to occupy my mind as I plodded on towards my goal. The occasional flock of geese flew overhead and mallards and moorhens flew from the drainage ditch as I ran past. I did however at one point pass a small beach. The first beach I'd seen on my run around Wales for a while. It wasn't the prettiest of beaches though,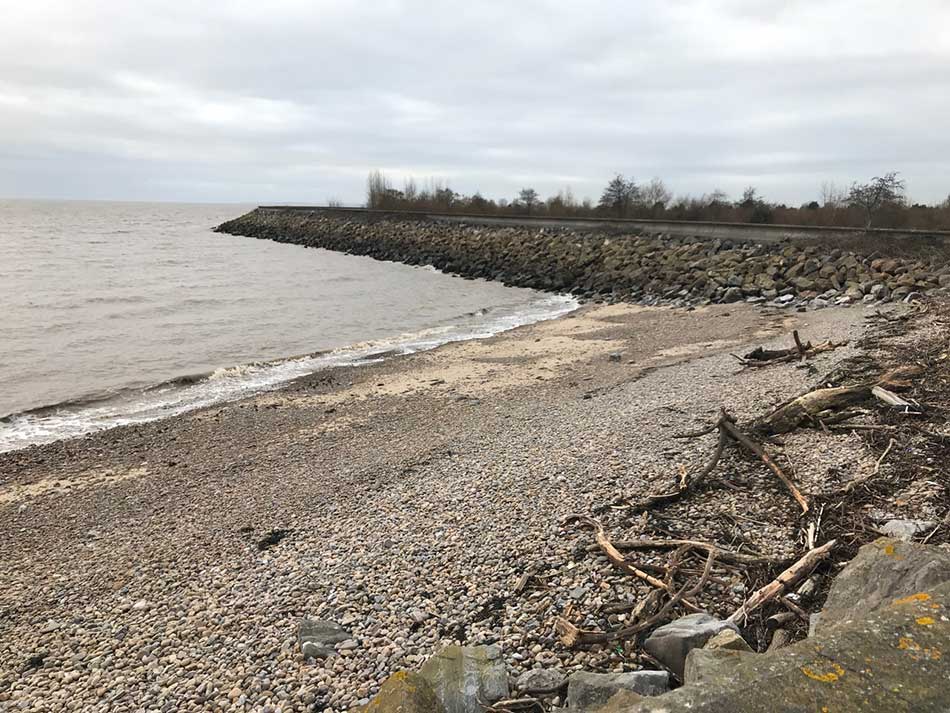 Peterstone Golf Club broke the monotony temporarily, as did a lagoon that is presumably part of a flood defence system.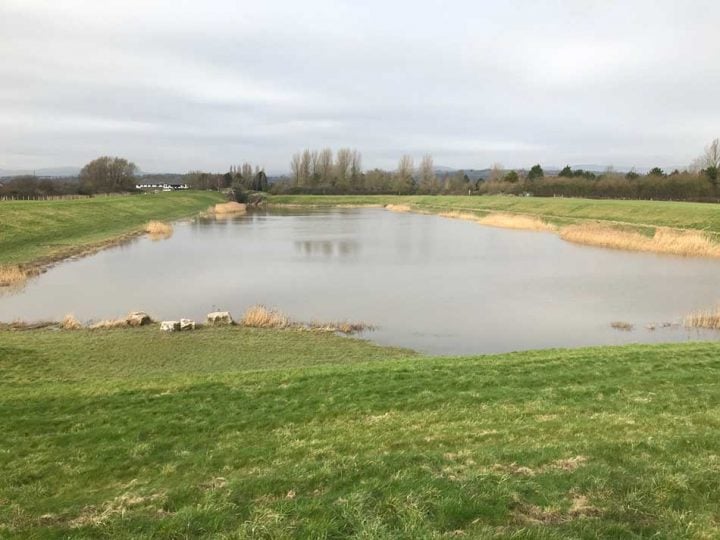 It was then just more miles of embankment with land reclaimed for farming to my right. I could see a church beyond these at one point but other than that there was little of interest.
I passed someone fishing from the embankment, a few horses here and there, a couple of people riding horses. There were also some people out on the mudflats below the seawall. They had a couple of gundogs with them and seemed to be training them to retrieve with decoys of ducks attached to bits of rope.
Towards Cardiff
As I approached Cardiff I could see large industrial buildings ahead of me. The embankment widened too and there was the occasional noticeboard and other odd buildings.
Eventually, the path took me down off the embankment, through some piles of stones and then out onto a track that ran alongside a little stream. I think there was an old landfill site the other side of the stream that had now been partially re-landscaped.
I passed a couple of walkers and then emerged from the relative peace and quiet onto a busy road. This took me over the Rhymney River and then into the mayhem of the Capital City. There was noise, traffic and people everywhere. I crossed a busy roundabout, ran alongside a tree-lined road complete with swatches of crocuses.
Lost in Cardiff
I then got a little lost following the Coast Path signs. The signs pointed in a different direction to the GPS track I had on my watch. I followed the signs as they are usually quite good, but here they just took me in a big circle to end up back where I had already been.
I tried a different way second time around and ended up lost in a residential estate. From here I headed towards the GPS track on my watch and eventually found some Coast Path signs. These soon disappeared again and I found myself running along roads lined by terraced houses. I think I was probably running parallel to where I should have been so weaved my way through the streets of Cardiff trying to find my way back to the actual route.
I did see the a sign here and there but each time I followed one they would take me off track and there would be no more signs to follow. In the end I simply followed my nose and hoped for the best.
I had planned to leave the Coast Path around here anyway as I had to head to Cardiff Central Railway Station. With a quick check of the map I started heading to the railway station and soon found myself in the middle of Cardiff with all of the hubbub expected of a Capital City. Cars, bikes, buses, taxis and people everywhere. Noise, activity and people going about their daily lives. I ran amongst them, a muddy, sweaty guy in shorts, a running top and a rucksack. No one seemed to blink an eye though, this after all is a major city and I guess anything goes.
There were high rise buildings towering over me and huge car parks, retail stores and of course coffee outlets everywhere. Roadworks and construction, busy road junctions and traffic lights. All with people rushing around in all directions. Huge new buildings juxtaposed with the older traditional architecture of the city. Everything you could imagine, except for a signpost to the railway station.
Eventually I found my way to the station without too much trouble. The next stage of my Coast path run complete.
This wasn't a little single platform station like the ones I'd been used in North Wales though. This was a major terminal so I now had to move into city mode and find the correct train. It was all very easy. I bought a ticket to Newport, asked which platform I needed to go to and went straight there.
One of the advantages of running between two large, fairly close together cities is that the transport links between them are good. None of this waiting around for 2 hours for the next bus / train that I've had to do elsewhere. No need to go around the houses for hours on several buses or trains to get back to where I started from. Here there seems to be trains between Cardiff and Newport every 10-15 minutes so a couple of minutes after getting to the station a train arrived, I jumped on it and was soon on my way back to Newport.
15 minutes later and I was there. I think it took me longer to find my way out of the station than it did to get back!
Running through Newport Again.
This wasn't quite the end of my running for the day though. Newport Station was a couple of miles or so from where I had started so I had to run back to the car. I took me a short while to get my bearings after the train journey but I was soon on my way. The slight pause and sit down on the train hadn't helped my back which was now really sore when I tried to run. I plodded on anyway, across a footbridge over a busy few roads and then down onto the busy banks of the River Usk. There was a huge pedestrianised promenade along the river here and some good views of the various bridges in Newport.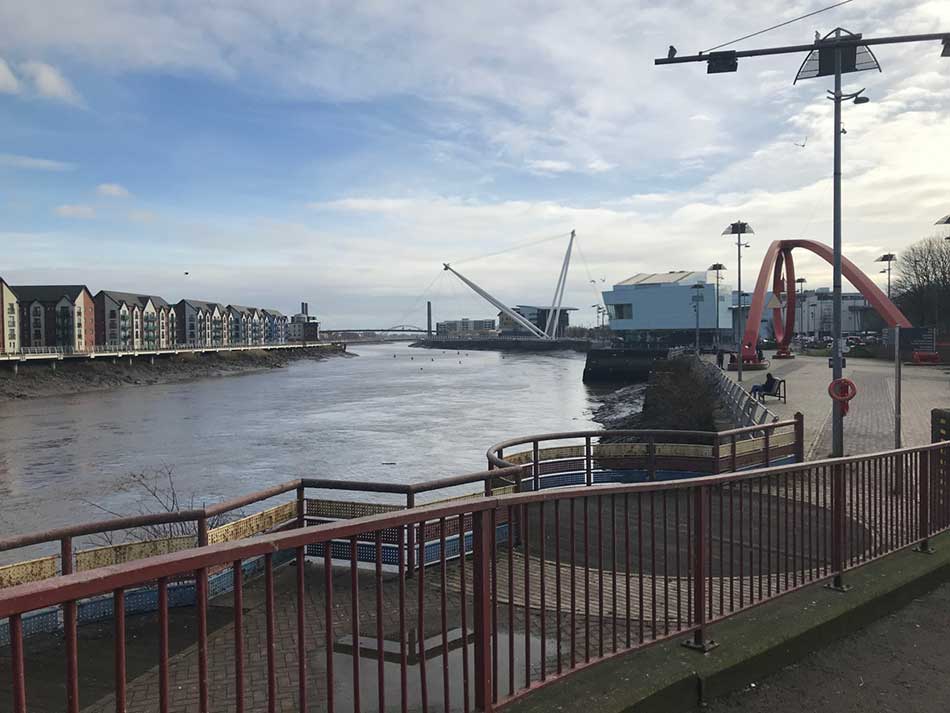 I could see City Bridge that I had crossed earlier in the day in the distance so just had to head to that. I did however decide to cross the river over an attractive looking pedestrian bridge called Newport City Footbridge.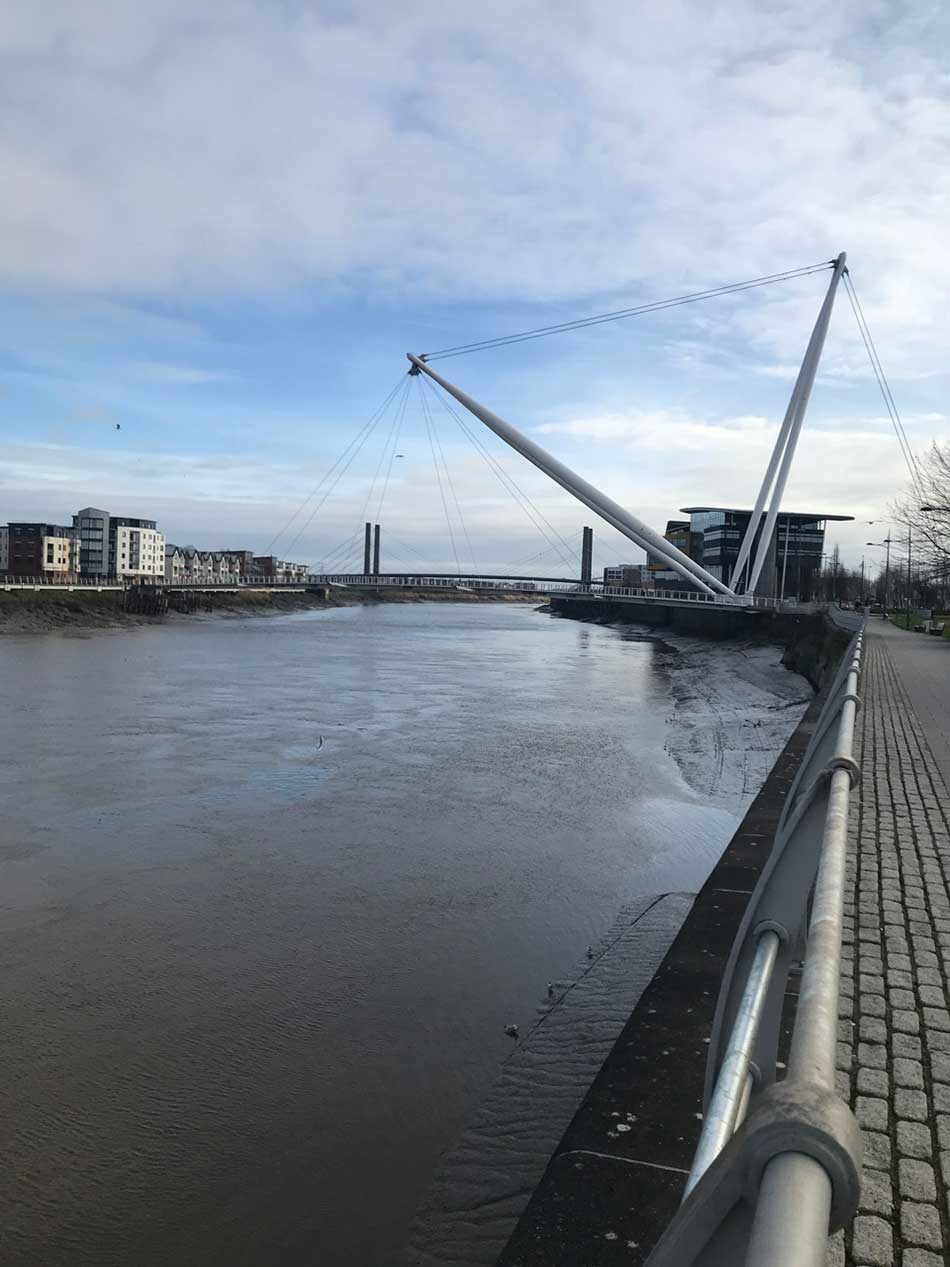 The bridge features two A-Frame masts, which support the bridge from the west bank. The masts are positioned on a shared foundation and anchored at ground level by two cables that are connected the tips of the masts. According to Wikipedia:
The forward mast is 262 feet (80 m) long and the back mast is 226 feet (69 m) long. Because of the angle at which the masts are positioned, the bridge stands at 229 ft (70 m) above ground. The deck is 16 ft (4.9 m) wide and 13 1?2 ft (4.1 m) above water at high tide. The bridge has a clear span of 476 feet
I was now on the East bank of the Usk and slowly running alongside housing estates. First I passed under George Bridge. I then ran around the muddy bank of Spytty Pill, past more housing estates and on towards City Bridge.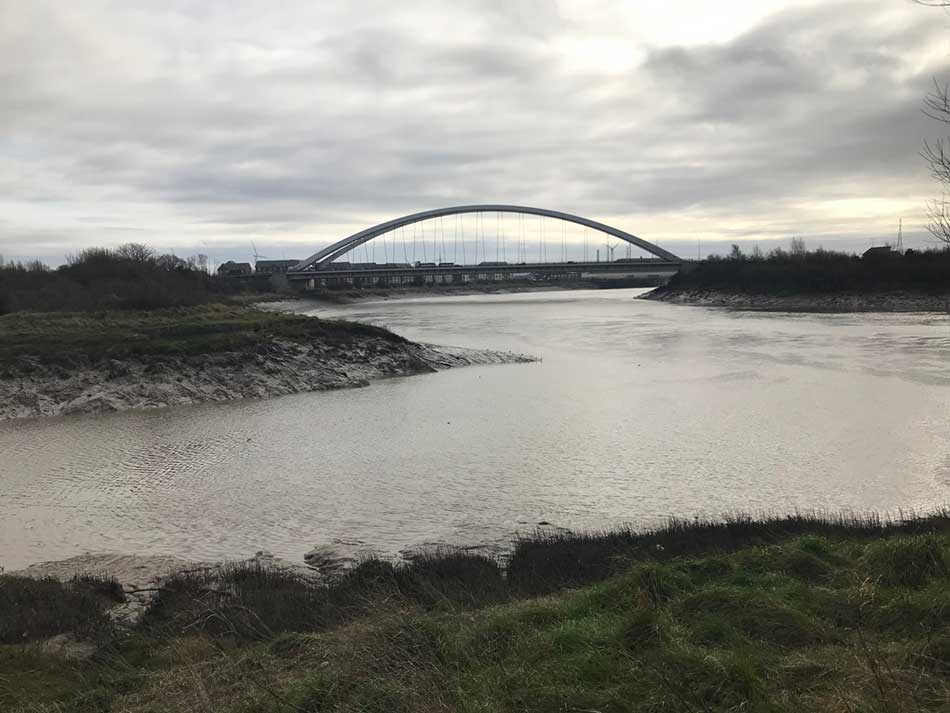 Here I crossed the busy roads and roundabouts and made my way back to the car. The end at last with a final 2.45 miles of running to add to the earlier 16 miles.
My day was done. Just a 3 hour drive back through Wales with a bag of M&M's to keep me company.