Surf-Ski on the Bar with Steve and Sam
The surf was forecast to be good this weekend so I'd put the call out to see if anyone fancied a surf ski session here on Sunday. Steve and Sam who I'd met last year in Fishguard were up for it and were heading up from Hereford. There weren't any other takers though.
Making Plans
It's always difficult calling the conditions ahead of time and making plans for others as you can be certain that the weather, tides and surf will throw a spanner in the works. This means I'm always a little tense when other people are driving here because I've said it'll be good. I feel as though it's my fault if the conditions aren't up to much. I checked the beach first thing and the surf was smaller than I'd hoped but still looked good.
The next problem was going to be the tides. There were very big and it would take a while for it to drop once Sam and Steve were here.
I had told them to get here for 11ish which was high tide as that gave us the option of paddling out from the estuary should the surf be too big on the seafront. I was supposed to be swimming in Aberystwyth at 9am but changed my mind about it at the last minute so did some work in the garden first before they arrived.
Bigger!
Once they were here we headed over to the beach to take a look. The surf was now pretty big with some even bigger sets rolling in. If anything it was going to be a little too big to launch surf ski's off the seafront. Over coffee I decided that it would be better to launch from the estuary and then head out towards the Dyfi Bar from there. That way we could assess the surf situation as we went and paddle out through it in the deeper channels. As Sam put it, 'we could sneak up on it while it wasn't looking'.
Out to the Bar
The paddle out through the estuary was fine. A little choppy over the point and then we had the wind and tide with us as we raced out towards the surf. The deep channels gave us easy access to the surf which was pretty big. At least out here there were plenty of shoulders into deeper water channels that could be used as escape routes. The biggest waves out the back would always back off as they entered the deep channels too, so it was all pretty easy going. The whitewater beach break would have been a different matter. We all had loads of nice fast waves racing for the shoulder to keep out of harms way.
The sun was shining, the scenery was perfect and there were smiles all round as we caught wave after wave. My GoPro wasn't mounted at the best angle, so despite thinking that I was looking at, and therefore filming, the others as they caught waves I didn't seem to get much of them 'on film'. The shots I did capture of me catching waves give you and idea of what it was like out there.
Time for a Swim
After we'd been in for about an hour and were getting properly settled in things got a little wetter for Sam and Steve! I took off on a nice wave only to see both of them swimming in front of me. They weren't far from their skis, but there wasn't anything I could do to help. I would have liked to have tried to get their skis to them, but by the time I was close enough there was a set coming through and nothing I could do. I couldn't hang around trying to help out without ending up swimming myself so could only paddle back out again. I tried once more to get closer to Sam only to get picked up by a wave which meant I had to head for the shoulder and ride away from him. Steve was also separated from his ski now, both of them had snapped their leashes. I told Steve there was little I could do to help so instead I'd head in to the beach ready to catch their skis.
That was the right call assuming I could paddle into the beach through the impact zone. It was better to have one of us on the beach and two people swimming rather than all three of us swimming. At least there I could collect their skis and if necessary get some help. Not that I thought that would be needed. They both had wetsuits and buoyancy aids on so would be fine out there for a while. It was just going to be a bit of a swim for them.
Back to Shore
It didn't take that long really and we were soon all back on the beach with everything in good condition. I don't think they fancied going back out after that though so instead we had a paddle into the flat waters of the estuary where we had a bit of a slog against a fast flowing tide.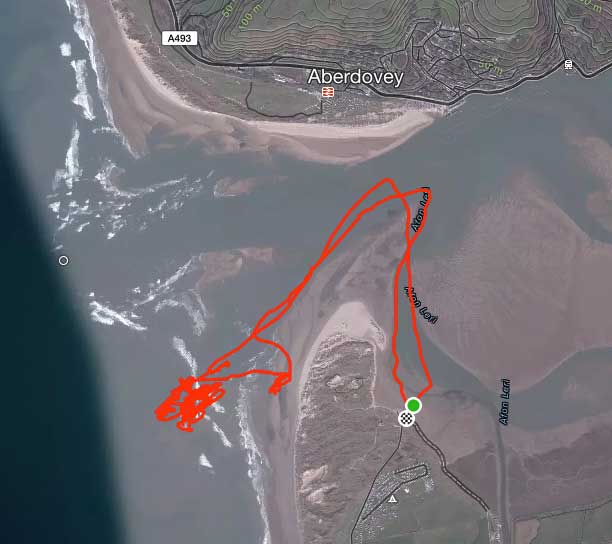 A bit of an abrupt end to what was a good session with decent waves. I think Sam and Steve enjoyed their taste of Ynyslas waves, even if they did get a little more intimate with them than they had planned!