Geocaching in Cheddar and the Mendips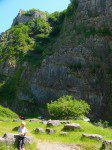 After our relaxing morning sailing at Axbridge Reservoir we headed off to Cheddar and drove up the gorge. There were a few geocaches in the gorge so we stopped off to do these.
The first was a quick cache and dash called 'Home of the Cheddar Pink' on the roadside. It was a gorgeous day so the gorge was pretty busy with tourists and hundreds of climbers but I managed to retrieve and replace it discretely. Next was a quick Earthcache all about the gorge itself. Morgan and I sat on the grass for a bit and watched the world go by whilst Anna had a snooze on the car.
We then headed off up the gorge and into Priddy (The highest village on the Mendips), where I went off on a little walk around the village finding the various clues of the Priddy Perambulation cache. Morgan and Anna slept in the car whilst I did this. This was a lovely cache, helped of course by the amazing weather, but it took me on a little walk around the village finding various numbers and learning a bit about the history of the village too. All the clues were easy to find as was the final (quite large) container so there was nothing to frustrate, just a nice easy pleasant treasure trail.
We then headed off to Stock hill and another geocache in the woods. This one, The Stock Hill Tri-Angle was a little more difficult. A short walk from the road took us deep into the woods where the GPS signal was a little patchy. Once there we had to find three trees, each with a letter (A, B and C) on them. It took a while to find the first but at least then we knew what we were looking for. The next two took a bit of time to find as well, but once we had all three we then had a triangle with sides of about 30m. The cache was somewhere within this triangle. We then searched for a while to find the cache. We lost track of which tree was which a few times so had to re-search for the letters a couple of time, but eventually we found what was a very cleverly hidden cache. I won't give anything away here but it was well camouflaged and well hidden so we were pretty pleased with ourselves once we had found it.
Yet again geocaching kept us amused for the afternoon and gave us a reason to go to some places that we might not have bothered going to otherwise.