Mountain Bike Repairs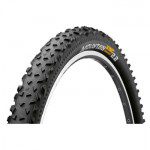 I knew it!… If I spent some money on some new toys something else would break requiring more expense.
I've been needing some new tyres for a while so I took the plunge and used my £5 voucher from Wiggle to buy some new Continental Mountain King tyres for my bike (a bargain at £15.99 each!). I've also been in 'need' of a new 5m sail and some other windsurfing equipment so I've order a 5m Gun Hammer, a new mast extension and some harness lines from Gun Sails and have arranged to send my broken booms back for replacement under warranty. Of course, with my 'key rider' discount and the usual good value from Gun these were bargains too.
I then went out for a ride on my mountain bike last night and returned needing a new spoke, a wheel re-alignment and some new brake pads… I shall take my bike in for repair tomorrow. Hopefully none of it will break the bank though and I'll soon be back up and riding with a bike that feels like new and out windsurfing with some new kit… I like new toys!!