A Busy Day in Wales
We had a busy day here in Wales on Friday. Anna had the day off work and I decided to join her. It wasn't an official day off for me as I usually work for the University on Wednesday to Friday. I say 'for' rather than 'at' because that's the case these days. However, I had already worked Monday, Tuesday, a long day on Wednesday and Thursday for the University this week so had done more than my hours for the week. This meant that Friday could be a day off for me as well as for Anna and Morgan.
A Sunny Start
It was a lovely day too as the sun rose over the hills and lit up the golf course, dunes and beach. It was going to be a busy day in Wales.
We had a fairly lazy start as we had an electrician visiting to look at a job that needs doing. I'm going to have to do some DIY before he can do it though. Our plan after that was to head into the hills for a little walk and a picnic. I was hoping to go for a swim as well.
Morgan didn't want to come with us – no surprises there. So, after packing a picnic Anna and I headed off to Dolgellau. We drove up into the hills to Nannau and a little car park at the start of the Precipice Walk. It was fairly quiet and already quite hot.
Precipice Walk
We set off up the hill a little towards Llyn Cynwch. The route we had chosen was well sign-posted and relatively flat as this was supposed to be a nice stroll rather than a proper walk in the hills.
There were signs by the lake telling people to keep to a one way system due to the narrow paths. These aren't usually there but are an extra precaution in these times of global pandemic. We therefore followed the path around the hill in an anti-clockwise direction. Views opened out across southern Snowdonia as we did so.
The path was narrow and rocky but well defined, flat and easy to follow as it traversed around the northern end of the hill. The NW leg of the path overlooked the River Mawddach. Its peaceful, brown waters could be seen meandering far below and ripples troubled its surface over the shallow gravelly banks. It looked quite inviting from up here. The hillside steepened for a while. I little too high and 'precipice' like for Anna but she did OK.
Views of the Mawddach estuary opened up to the west. First the sands of fairbourne could be seen, then the sandbanks of the estuary itself and finally Barmouth and the railway bridge could just be made out in the far distance. There wasn't a cloud in the sky, barely a breeze and temperatures were now officially 'sweltering'
Our weather station in Ynyslas hit 27.5ºC but it was hotter inland where we were and plenty of places in Wales topped 30ºC.
Cadair Idris could be seen basking in the sunshine to the SW as we reached a viewpoint below the hillfort of Foel Faner.
Picnic at Llyn Cynwch
From here it was a short walk back towards Llyn Cynwch and some welcome shade. With the sun beating down on us we could here little snapping noises as we walked beside stunted hawthorn trees. The sound of seed pods opening and thermal expansion in twigs and branches. It was certainly a schorcher! I saw a redstart at one point but things were fairly quiet on the wildlife front too. So far we hadn't seen any other people except for a family in the car park. The only other signs of human life had been the busy A470 as it followed the River Mawddach.
As we approached the lake there were signs saying 'No Swimming'. I'd been scuppered. Not only that, I had been carrying our swimming kit around the hill needlessly too. There were also lots of signs saying 'No throwing stones into the water'. I couldn't even skim stones!!!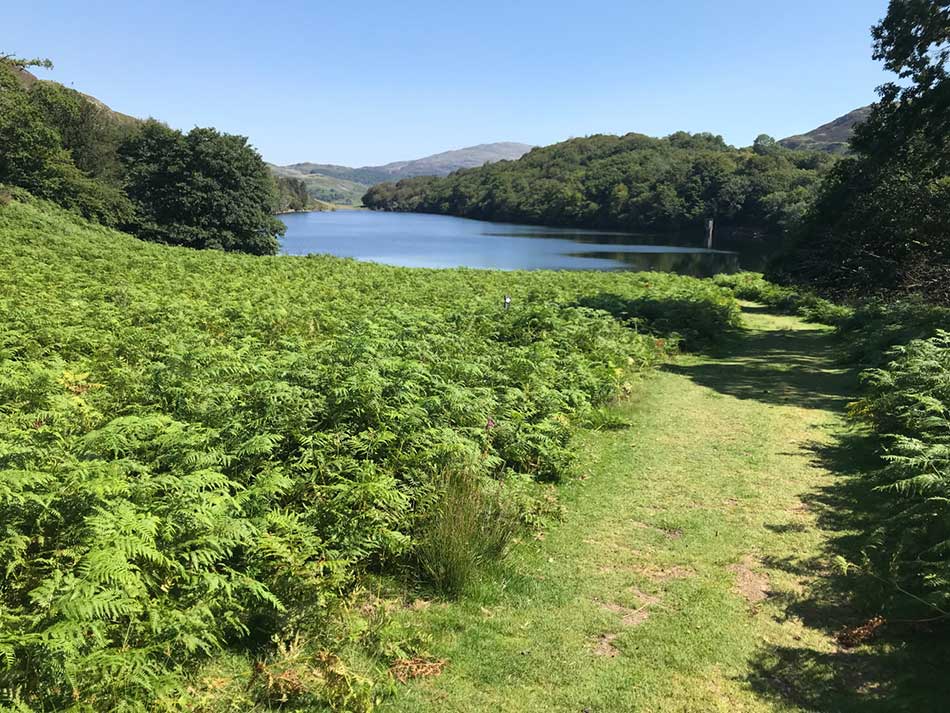 The lake itself is a reservoir so has a pumping station where we were now, at its southern end. It's also one of the top fishing spots in the area and is run by the Dolgellau Angling Association who keep it stocked with rainbow and brown trout.
It looked perfect for swimming in, especially today. Its waters were clear and deep and barely a ripple broke the surface. After such a hot walk a quick dip (or even a long swim) would have been lovely. It wasn't to be though so we walked along it's NW shores, around the top of the lake and then found some shade on it's grassy banks where we stopped for a picnic.
There were now a few people out walking dogs and enjoying the gorgeous Welsh weather. It certainly wasn't busy though. A perfect peaceful spot for a picnic. Although, all I could think about was how nice the water looked. I was tempted to go for a swim anyway. There weren't any 'No swimming' signs at this end of the lake. So, had we just walked up to the lake from the car park we wouldn't have seen any and I would have been in there like a shot. It was tempting just to do that anyway, what's the worst that could happen? I might get shouted at I guess, but it would have been worth it. Now that I'm home I kind of regret not getting in anyway. I didn't, so after a pleasant picnic we strolled back to the car and headed home.
A Busy Day in Wales
The roads were getting busy by now as people flocked to Wales. We stopped off in Machynlleth for some petrol for the mower. It was mayhem here. We joined a steady stream of traffic that was all heading towards our house! I guess technically they weren't going to our house, they were going to the beach, but that's one and the same!
Once we got to Ynyslas it was chaos. I've never seen so many people here. One can only assume that all of the people that would usually be on foreign holidays in places such as Spain had decided to go to the beach in Wales instead. All of the car parks were apparently full, so people were parking all along the road. Trying to squeeze through was a nightmare as there was no room for passing. Add into the mix the fact that there's no pavement and plenty of people walking along the road and it's a recipe for disaster. I have no idea how the coastguard or a fire engine would get through in a hurry and it's not nice for the pedestrians either.
People had even parked blocking gates. These gates are used not only by the Golf Course to get the mowers and tractors through, but also as emergency access points to the beach. The coastguard regularly use them but with people parked like this they wouldn't have been able to.
We had at least discouraged people from turning around in our drive. For some reason there had be loads of them doing so lately, but a big pile of pebbles seems to have done the trick. It doesn't stop them parking opposite our house and then other driving on the grassy strip in front of our house in order to get through though. In many ways I'm glad it's not going to be hot and sunny this weekend so that hopefully some of the tourists will head home. Something definitely needs to be done to stop people parking all along the road though.
Surfing
The beach itself was busier than I've ever seen it was well.
There was some fairy big surf though so I headed over with my surf ski. The waves were 3-4 foot and a little crumbly due to a light onshore wind. On the surf ski that was fine. I could catch the waves way out the back, bounce and bump my way in on the big swells and then carve off to one side as they steepened up and ride the steeper faces towards the beach. Wave after wave, some of them over 300 yds in length. Lovely.
I did get caught sideways by one and came off, losing my sunglasses in the process. I was soon back on and punching out through the whitewater though. Morgan joined me with his surfboard after a while. He too caught some decent waves by the beach while I watched on. Av and Emma (neighbours from just down the road) came over with their kids and some friends. Av has been interested in my surf ski for a while so I popped out for another few waves just to let him see it in action. Morgan was tired by now so after that I jumped on his board, paddled out the back and caught a couple of waves on that too before heading home.
Things had got a little quieter by now and it wasn't long before it started raining – hopefully that'll keep the crowds away for a while!