Christmas 2018 at Ynyslas
Well, we had a nice quiet family Christmas at home once again. I was a little preoccupied with server issues that I was trying to sort out for my clients but I put that to the back of my mind and managed to have a lovely day at home. Christmas Eve was spent getting ready, surf-skiing and even playing some board games.
Presents from the Cats
Before we could make a start on the presents that Santa had brought, we first had to deal with some that the cats had brought for us. They had obviously decided to do Santa impressions themselves so we awoke to a nice collection of feathers strewn all over the hall. There was fortunately no sign of the bird from which they had originated, but I'm not convinced that we won't find a corpse somewhere yet!
The next task was to wake our slumbering teenager. Gone are the days when he'd be in our room at 2am to tell us that Santa had been. Nope, now it's Anna and I chomping at the bit to get going with the Christmas Day fun. Admittedly he did get up fairly quickly once I woke him up at around 8:30am, but I think it would have been fine if Santa had left us to last and delivered our presents at 7am rather in the depths of the small hours!
Presents around the Tree
We had a nice breakfast of cinnamon rolls and coffee while Morgan opened the presents in his stocking. We let Sprout (our giant inflatable elf) out of his box and then we gathered in the living room to open the mass of presents under the tree.
The first present I pulled out from under the tree looked like this.
Trudi is my sister who lives in Gloucestershire, she's never lived here and has never been here for Christmas. Maybe Santa had gotten confused with his deliveries overnight? In honesty I think it might have been my Mum that got confused at some point during the present wrapping and distribution! We did wonder if maybe we'd have all of Trudi's family's presents and she'd have all of ours, but thankfully this was the only one that was out of place.
As usual there were loads of presents for everyone. Morgan had (amongst other things) loads of warm clothes, a travel pillow and spending money for his ski trip, a warm snuggly hooded robe, a hard drive for his xBox, LED lights for around his gaming table, puzzle books and games and even a giant gummy poo.
Anna had lots of smellies, books, calendars, clothes, money towards an iPad and a trip to River Cottage for a 'Saturday Evening Feast'.
I had a cool 'portable' wood-fired pizza oven, an aero bottle for my bike, an airtank pump for seating tubeless tyres, a shoe drying gadget and plenty of sweets, chocolate and other edible goodies.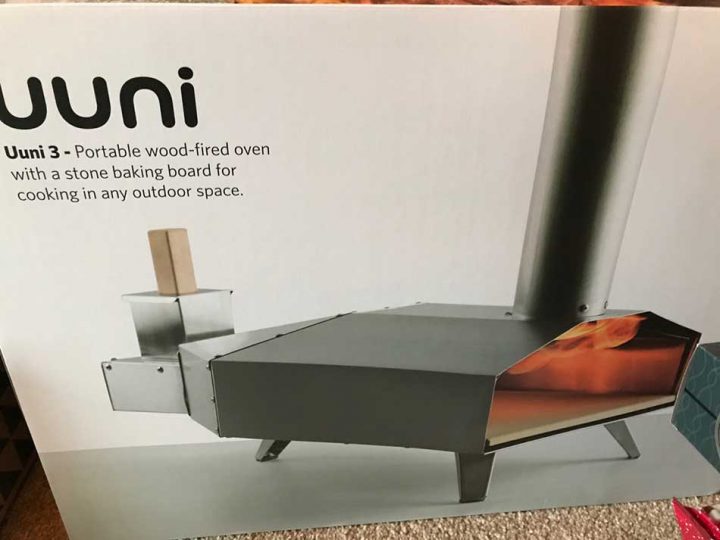 Christmas Dinner
It was now time to continue with the Christmas Dinner. Anna had started work on our Hello Fresh Christmas Dinner on Christmas eve. She was following their handy timeline and adding in a few bits of her own so as to include the additional items we had supplemented it with and to cater for Morgan. She continued with the plan. It was nice to be trying something a little different. It wasn't too far from our traditional fare but there were a few little twists here and there such as truffle powder. Mmm Mmm.
The table was laid and bang on 2pm as predicted by Anna we were sat down ready for our paté starter. Crackers this year had been home-made by Anna as well, so along with the festive joke, the charade and a paper hat there were some chocolates instead of a useless piece of plastic – much better!
The main course was delicious and as usual there was far too much of it which meant that there'll be leftovers for days to come and we didn't need any pudding. I did of course manage a couple of mince pie pinwheels with clotted cream anyway!
Relaxing at Christmas
The rest of the day was spent with a little stroll over to the beach, chatting to family on the phone and playing with our presents. I helped Morgan set up the LED lights around his xBox so that he has a cool looking gaming corner. We set his Hard Drive up as well.
I built the pizza oven later in the day, only to discover that the pizza stone that lines it had been snapped in transit. It came from Lakeland so hopefully between them Lakeland and Uuni will soon send us a replacement.
We watched some Chritmassy films, Anna had a snooze, more food, cakes and sweets were consumed and before long it was way past bedtime and Christmas Day was over
As usual a fairly quiet affair but everyone had a good day. Merry Christmas Everyone!